The Third Central Asia Climate Change Conference (CACCC 2020) will be held online on October 19-23, 2020. The objective of the conference is to strengthen a regional dialogue on climate change and sustainable development through the information and knowledge exchange in Central Asia. You can get more detailed information on the CACCC-2020 here

A series of our publications will be dedicated to the speakers of the upcoming event. And, today, we would like to introduce you to Lilia Burunciuc, Regional Director of the World Bank, Central Asia. Her presentations will take place at the opening and closing of the CACCC-2020, October 19 and 23.
Speaker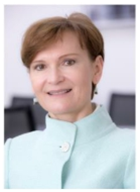 Lilia Burunciuc is the Regional Director for the Central Asia Region at the World Bank. Since joining the World Bank in 1996, she has held a range of increasingly challenging positions:
· Manager in Operations Policy and Country Services;
· Country Manager for Macedonia;
· Country Program Coordinator for Southern Africa and Central Asia;
· Senior Country Officer for Ukraine and Belarus.
The speaker has wide-ranging experience in conducting strategic dialogue and developing strategies for the World Bank in several regions such as Africa, Europe, and Central Asia.
Prior to joining the World Bank, Lilia Burunciuc was a Deputy Governor of the National Bank of Moldova (central bank). In that capacity she worked on the establishment of a regulatory framework for the foreign exchange market, reform of banking supervision and bank restructuring. She holds a Master of Public Administration degree from George Washington University (US) and a degree (Master level) in Economics, Management and Planning form the Technical University of Moldova.
Stay tuned for further updates to know about other interesting speakers of the CACCC-2020
_________