"Tajikistan is the most vulnerable country to climate change in the ECA region (Europe and Central Asia)." Over the past decades, the number of natural disasters in the country has increased many-fold, which poses a serious threat to the well-being of both the country's population and the entire region.
As President of Tajikistan Emomali Rahmon noted at the "Water for Sustainable Development 2018-2028" conference on June 20, "Long-term observations indicate an increased impact of climate change on nature and social and economic situation in Tajikistan and Central Asia. According to these observations, over the past sixty years the average annual air temperature in Tajikistan has increased by one degree Celsius, and the frequency and intensity of natural hydrometeorological phenomena have increased as well."
According to the data of the UN Framework Convention on Climate Change, there is a risk of the country's average temperature rising from 1.8 ° C to 2.9 ° C by 2050.
Murod Ergashev consultant on environmental issues of WB project "Ecological sustainable land use and health improvement in rural areas" implemented by the Committee for Environmental Protection under the Government of the Republic of Tajikistan - gave more details on the climate change in Tajikistan, main risks, adaptation measures and opportunities for regional cooperation.
What are, in your opinion, the main consequences of climate change that can be observed in Tajikistan?
Tajikistan is one of the most vulnerable countries in terms of climate in the whole region of Europe and Central Asia (ECA). 93% of the Tajikistan's territory are mountains, and only 7% of the land is considered flat. The country's population is 9 million people, and there are only 0.06 hectares of irrigated land per each resident. Tajikistan is highly vulnerable to such climate shocks droughts, floods, landslides, etc. Up to one third of the glaciers in Central Asia is expected to completely disappear by 2050, which will dramatically increase the risk of sudden floods caused by outburst of glacier lakes. The glaciers of Tajikistan may lose half their volume by 2050.
_______________________________________________
According to experts, there are more than 13 thousand glaciers in Tajikistan. Their total volume is 850 cubic kilometres. This figure can decrease by half by 2050.
For example, over the past few years, the Fedchenko glacier has shrunk by more than two cubic kilometres of ice, with a total volume of 144 km³.
It should be noted that a significant part of Central Asia's water resources is concentrated in Tajikistan. Thus, the melting of glaciers in this country poses a huge threat for the entire region as a whole.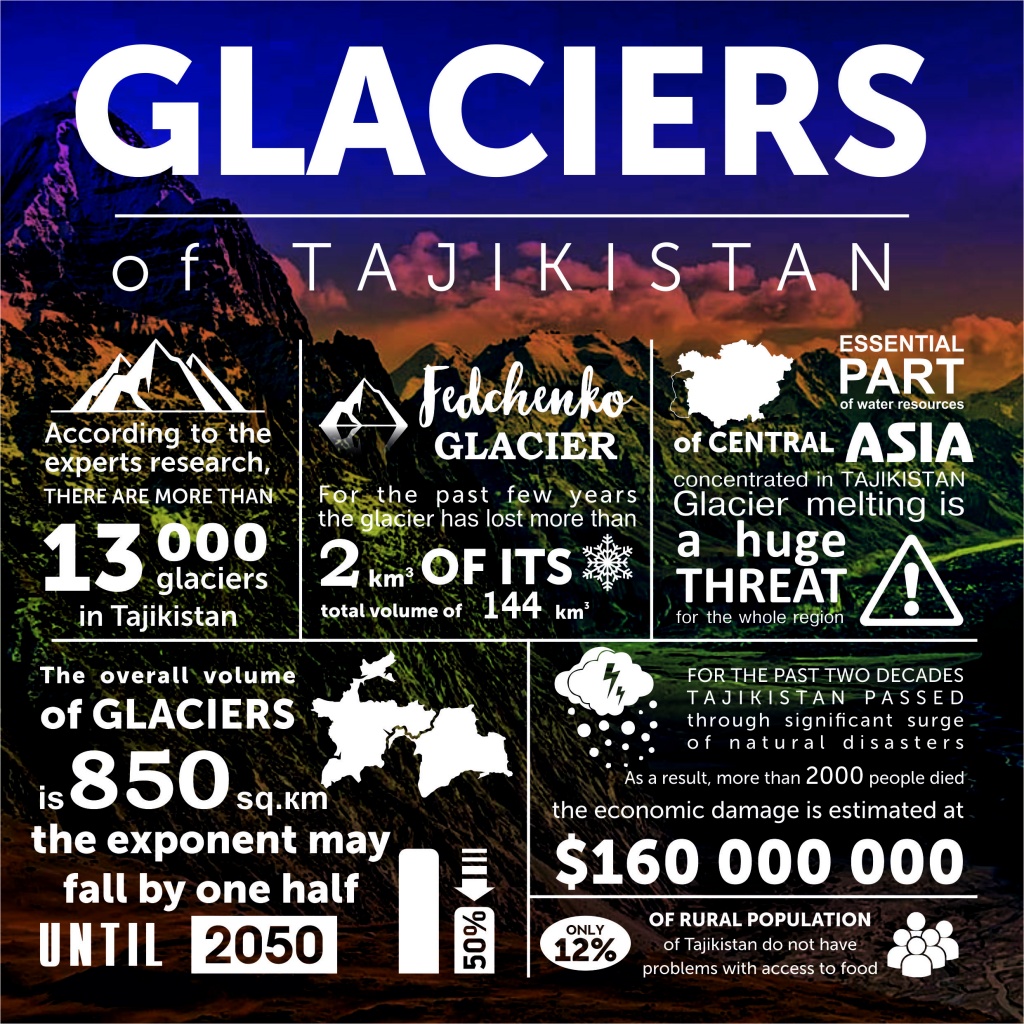 _______________________________________________
Such disasters are particularly devastating for the country's agricultural sector, which employs almost 60 percent of the population, as vital transportation networks will be washed away, which will take several months or even years to restore. For example, in 2015, high temperatures caused massive glacial floods and mudflows, which damaged critical infrastructure elements, and more than 10,000 people had to be evacuated. More than 80 percent of the affected communities were left without electricity.
The growing risk of natural disasters caused by climate change, in addition to high exposure to seismic hazards, might wipe out some of the impressive progress Tajikistan has made over the past few decades. According to a World Bank economist Saviy Khasanov, Tajikistan has managed to reduce its poverty indicators by half, and poverty has declined by almost two-thirds since 1999. However, a series of major disasters have also occurred across the country over the past 25 years, which together resulted in economic losses of over $ 1.8 billion and affected more than 80 percent of the population, with the worst consequences of these disasters affecting the most vulnerable segments of the population.
Efforts in ensuring resilience to climate change and natural disasters are required to protect Tajikistan's social and economic achievements and ensure sustainable development activities in the country. About 75.1 percent of women and 41.8 percent of men in Tajikistan are engaged in agriculture, and over 1 million people are at constant risk of food insecurity and are subject to recurrent climate shocks.
Global climate change has a direct impact on intensification of natural processes in the territory of our country. According to experts, general temperature rise is observed in the territory of the Republic of Tajikistan, and the number of droughts and natural disasters has increased. Reducing glaciers that feed the main rivers in our country and the entire Central Asian region may jeopardize the energy industry and agriculture of these countries. In this regard, the Government is developing urgent measures to adapt to climate change.
_______________________________________________
"Over the past two decades, Tajikistan has seen a significant surge in natural disasters, which killed 2000 people, and the economic damage is estimated at $ 160 million."
_______________________________________________
State bodies, NGOs and citizens of the whole region need to join efforts to address the climate problems.
Which adaptation measures do you consider most relevant to the mentioned problems in your country?
The consequences of climate change are already felt, and it is necessary to minimize their negative impacts. In particular, measures are needed to ensure adaptation to changing conditions that can be used both to reduce climate risks and take potential benefits from climate change.
Examples of such measures are more rational use of scarce water resources, construction of flood protection dams, creation of drought-resistant crops, selection of forest flora and development of forest management practices. Other very important measures of adaptation to climate change are improving the resistance of agriculture to climate change, creating drought-resistant varieties of crops, introducing soil and water saving technologies, drip irrigation, etc.
Cautionary actions can bring significant economic benefits and minimize impacts on ecosystems, human health, economic development, property and infrastructure. A comprehensive approach to the development of adaptation measures, combining science, technology and response system, will help to reduce the vulnerability of society and countries' economies to climate change.
However, unfortunately, the legislative framework of the national adaptation strategy in Tajikistan is still weak.
Which scenario do you foresee? What will happen if adaptation measures are not urgently taken?
Climate change will have various effects on natural resources, economy and public health, both positive and negative ones. The focus is on assessing the adverse effects of climate change and developing appropriate response and adaptation strategies.
At the same time, the regularities in the formation of river flows change, and the volume and character of the annual distribution change as well, which has an extremely adverse effect on the environment and on the most vulnerable economic sectors of Tajikistan and the entire Central Asian region, such as irrigation, water supply and hydropower.
Ecosystems of Tajikistan with great biological diversity may see changes in the vertical distribution of flora and fauna. Warming will have a noticeable effect on grassland vegetation. While this effect is likely to be favourable for high mountain pastures and alpine meadows, the decreasing precipitation and growing temperature may worsen the state of winter pastures and hayfields.
The tugai ecosystem is likely to degrade due to the decreased river flow and increased temperature against the background of growing anthropogenic impact. Hygrophilous vegetation and forests may be at risk in case of frequent and consecutive drought. Changes will occur in the phenology of wood, shrub and grassland vegetation with the climate warming.
Tajikistan's agriculture can suffer significantly from climate change, where, among other things, the arid climate contributes to land degradation and desertification processes. Longer dry periods with high spring and summer air temperatures can increase the risk of desertification processes in the southern and central regions of the country.
The country's water sector will face a greater demand for water for economic needs, especially for irrigated agriculture, due to warming climate and increasing plant evapotranspiration. Irrigation rates for basic crops can increase by 20-30%. The scenario is catastrophic. Poverty will increase, the level and duration of life will decrease, hunger and destruction will spread, etc.
_______________________________________________
"Only 12% of Tajikistan's rural population do not have problems with access to food."
_______________________________________________
Do you see any positive developments in your country's climate change efforts?
The Government of Tajikistan annually allocates budget and extra budget funds for natural disaster prevention and control. A considerable part of these funds is used for relocating the affected population, providing them with material assistance and carrying out shore protection works.
The Asian Development Bank (ADB) in Tajikistan, in partnership with the World Bank and the EDB, has launched a pilot program on adaptation to climate change (PPACC). The goal of the program is to help Tajikistan develop a program to mitigate the effects of climate change. This program has helped to improve and adapt the monitoring and early warning system and conduct research to determine possible patterns and plan actual measures aimed at natural disasters prevention and control.
Tajikistan has an efficient natural disaster prevention and control system in place. There is also the State Emergency Situations Committee, which combines all emergency prevention and response services, major ministries and agencies of the country, evacuation commissions and commissions ensuring sustainability of economic facilities.
Measures have been taken to assess the hazard and risk of natural disasters in the territory of the Republic of Tajikistan. The most vulnerable zones have been identified, where preventive measures are taken to prevent possible emergencies and prepare for them. Instruction sessions, trainings, exercises and drills are conducted according to the developed plans to raise public awareness of the nature of disasters and proper behaviour during them.
Special programs have been developed for training and education of secondary school students, university students, senior officers, workers, employees and economic entities of the Republic of Tajikistan in emergency preparedness and civil defence.
How do you think climate change efforts can be combined at the regional level? What are the prospects for regional cooperation?
The government strengthens cooperation with regional and international organizations in disaster reduction. Multilateral and bilateral international agreements on cooperation in natural disasters have been concluded. A working group of representatives of the Ministries of Emergency Situations of Kazakhstan and Kyrgyzstan and our Committee for establishment of the Central Asian Centre for Disaster Risk Reduction is operating in Almaty. This centre will help coordinate efforts in this area. Central Asian countries, where water resources are often concentrated in some of them, but are used mostly in others, need to develop a single regional strategy for adaptation to climate change.
Addressing the current problems in mitigating the negative impact of climate change, in conditions of global development, requires from us collective efforts and urgent and long-term measures.
Thus, we see that Tajikistan is one of the most vulnerable countries to climate change in the Central Asian region. Therefore, the ongoing climate change in the country poses a serious threat to the whole of Central Asia. It is necessary to consolidate efforts more actively at the regional level to change the current situation. Otherwise, if the temperature rises at the same rate, the region will become one of the hottest places on the planet by the end of the century.
_________________
Climate Adaptation and Mitigation Program for the Aral Sea Basin (CAMP4ASB)